We're pretty passionate about barndominiums as the best option for many people to get the home of their dreams — and anything else they need their home to be!
But we know you're likely looking at all the options for you and your family. So, we'll try to answer many of the questions you might have. Of course, if we don't answer your specific question here, feel free to give us a call at (205) 737-7813 or email us directly at info@homesteadbarndominiums.com
WHAT IS A BARNDOMINIUM?
At its foundation, barndominium is a combination of the words "barn" and "condominium," but that doesn't always fully convey the heartbeat of the product we're partnering with our customers to create. The real meaning of barndominium for our company is that we're combining everything structurally sound and versatile about a post frame structure with the beauty and design aesthetic that comes with a more expensive condominium.
To that, we're able to provide the best of all worlds at a rate that can be significantly more cost-effective than building or buying another style of home.
HOW DO YOU GET A BARNDOMINIUM?
Before we get to the materials and construction, the first step for us is a consultation with you, our customer and partner. The goal is to plan out the structural plans for your home and work that structure into your budget.
One of the biggest benefits of a barndominium is its flexibility of design. If you can dream it, we can design it together. After we have partnered together and have the plans for the home of your dreams, our highly trained team gets to work to put it together on your site.
WHY SHOULD I CHOOSE A BARNDOMINIUM?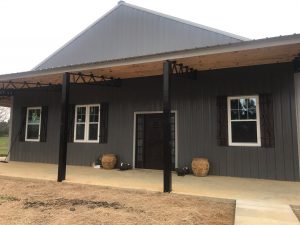 First, we choose the highest quality, strongest post frame structure. This means your home and/or business will be built-to-last. Through research and first-hand experience, post frame structure have been proven time-after-time to withstand storms and high winds.
In addition to the building materials, the benefit of choosing a barndominium is in its flexibility of design. 
Do you want more walls? We can add them.

 

Do you want an open floor plan? We can create it.

Do you want high ceilings? You got it.

Do you want a front or back porch? Done and done.

Do you want hardwood floors, ceiling fans or granite countertops? We can make this home the talk of the town!
From a beautiful, rustic aesthetic to a modern, industrial feel, these structures can accommodate the most selective tastes and the choosiest clients.
Pricing?
This is where the barndominium concept can really provide big savings. We can build it out as a simple dried in shell, or with partial inside construction, or fully complete and ready to move in. How much would you like to do yourself? Maybe start with some basic living areas, and then finish out other areas later? Incredible flexibility in barndominiums. Call us today and lets start talking about how we can get your dream home started.